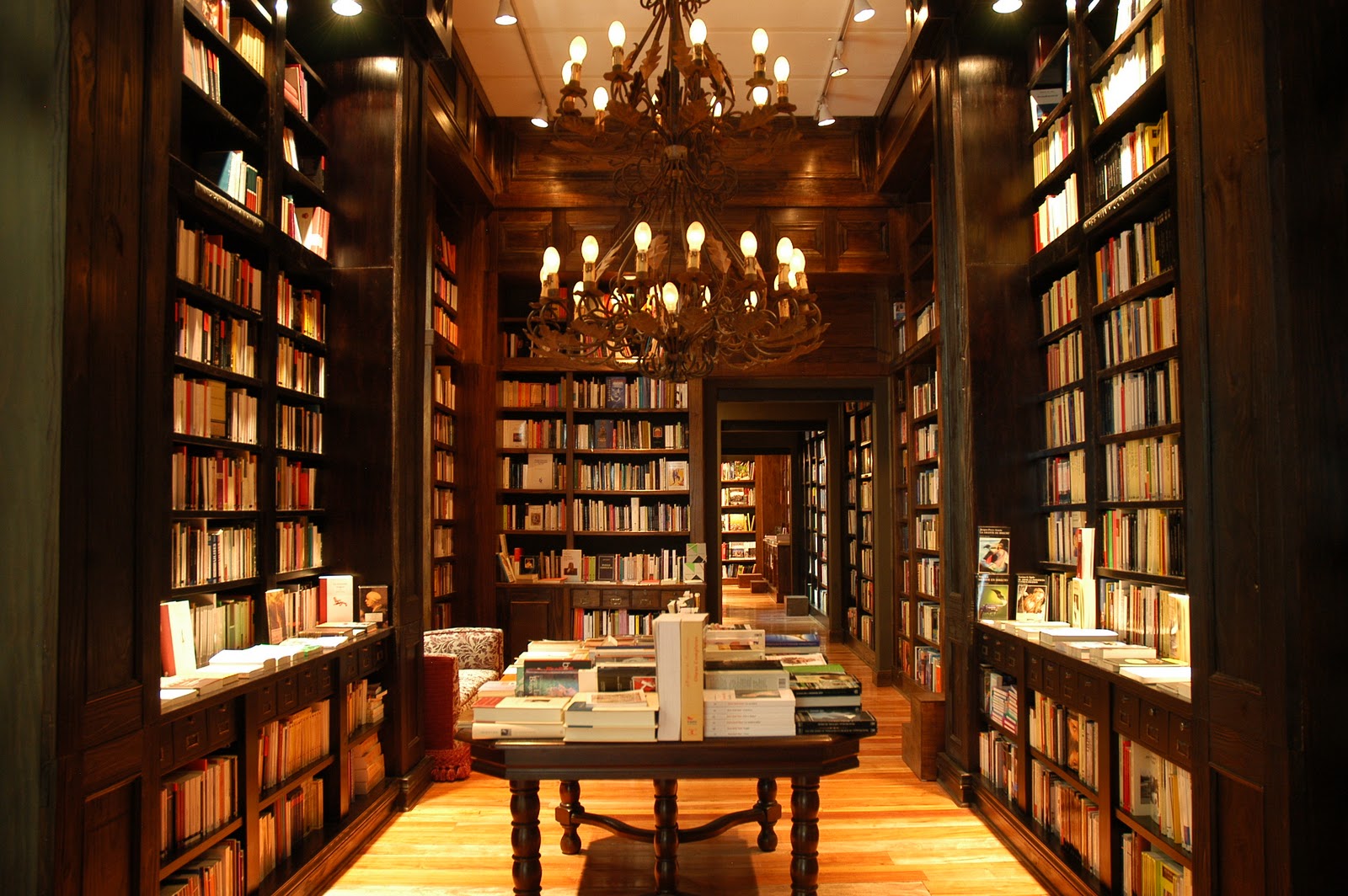 Buenos Aires: Bookshop Capital of the World
We Picked 5 Beautiful Bookshops for you to Visit
With roughly 25 bookshops for every 100.000 inhabitants, Buenos Aires has more bookshop density than any other city in the world. It ranked just before Hong Kong and Madrid. With a total of 734 bookshops, you will see that some of them are worth a visit. We picked five beautiful bookshops for you to visit in the most touristic areas: Palermo, Recoleta, San Telmo, and around Microcentro.
You will discover that, in Buenos Aires, you are welcome to look, touch, and even sample read the books before purchasing. Many large bookshops also have a cafe area where you can sit and read. It is a common practice here to pick two or three books from a shelf, ask for a coffee and go through a few pages before making your choice.
---
El Ateneo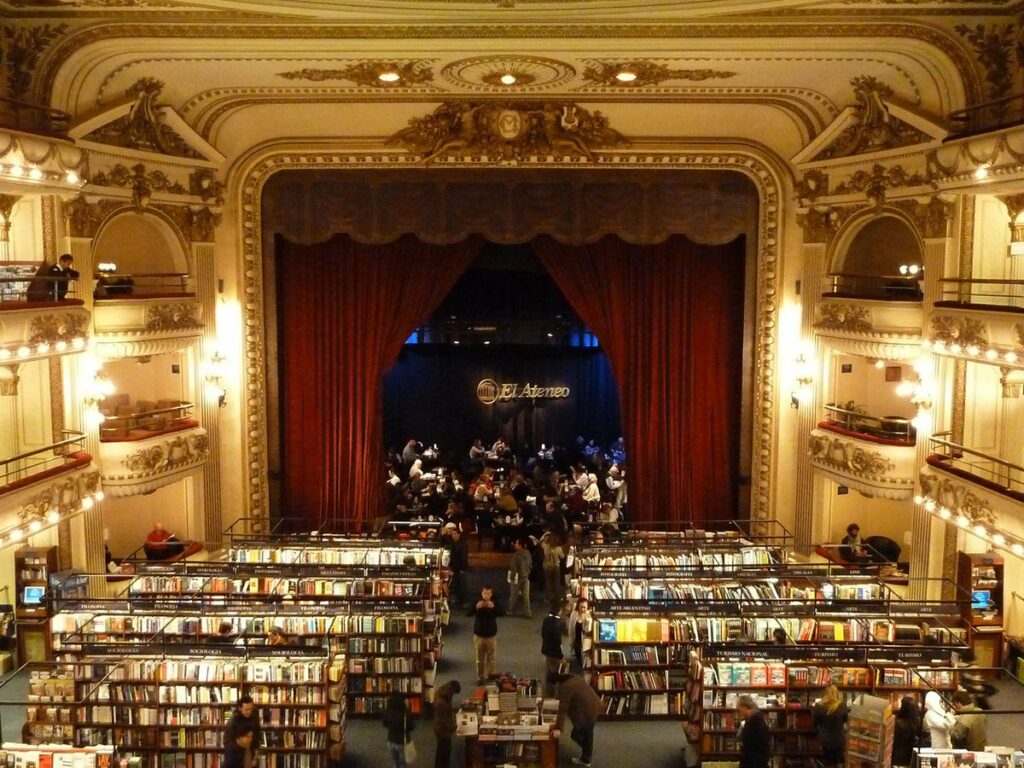 Housed in a beautifully preserved former theater, El Ateneo Grand Splendid was named "The World's Most Beautiful Bookstore" by The National Geographic magazine in 2019, and we agree. Without a doubt, El Ateneo Grand Splendid is a visit you want to include in your Recoleta itinerary.
The original "Grand Splendid" theater was commissioned in 1917 by an Austrian businessman and inaugurated in 1919. Converted into a bookshop in 2000, it still boasts the beautiful original Italian frescoes covering its ceilings. Bookshelves fill the theater galleries and box seats. The red curtain is still there too: it now separates the bookstore per se from the cafe, located on the former stage.
Where?
El Ateneo Grand Splendid – Santa Fe Ave. 1860 – Recoleta – See on Google Maps
---
Eterna Cadencia – Old Charm in Palermo Hollywood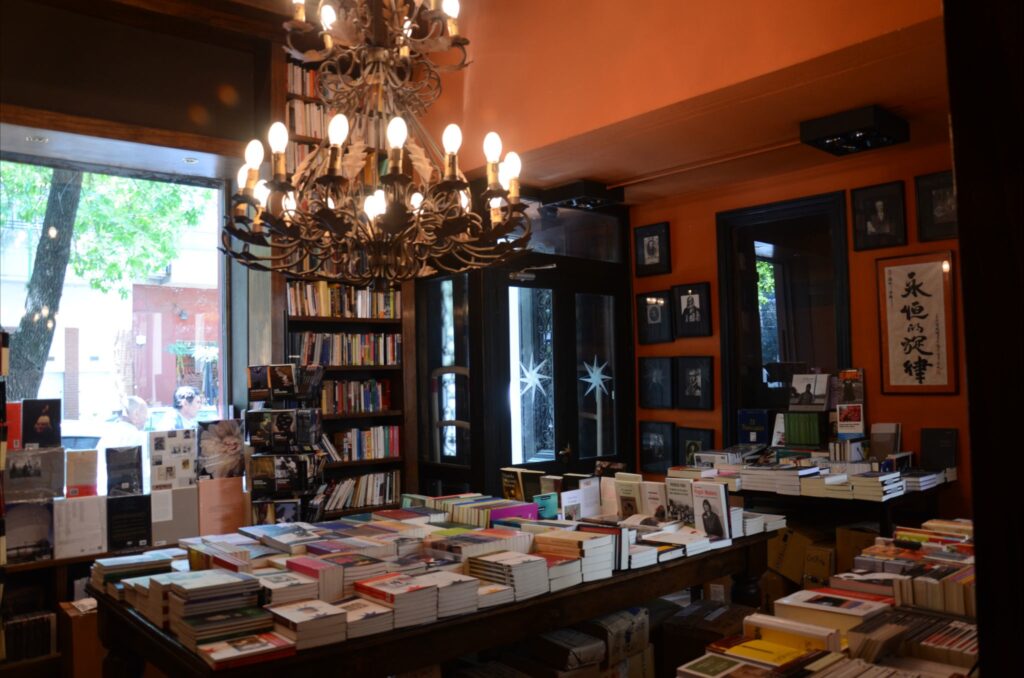 Right next to a standardized and soul-less Starbucks Café and a modern office building, Eterna Cadencia looks like an oasis of old charm in the heart of Palermo Hollywood. Instead of grabbing a frappuccino, push the heavy door of the bookshop: there is a small quaint café in the back.
With its hardwood floors and beautiful wooden shelves, Eterna Cadencia has a special magic that makes it a must-go for all book lovers. Their book selection is quite wide (almost only in Spanish). Eterna Cadencia is not only a bookshop: it is also very active on the publishing scene, specializing in Argentine narrative and international classics.
Where?
Eterna Cadencia – Honduras 5574 – Palermo Hollywood – See on Google Maps
---
Libros del Pasaje – A Bookshop in a Typical Palermo casa chorizo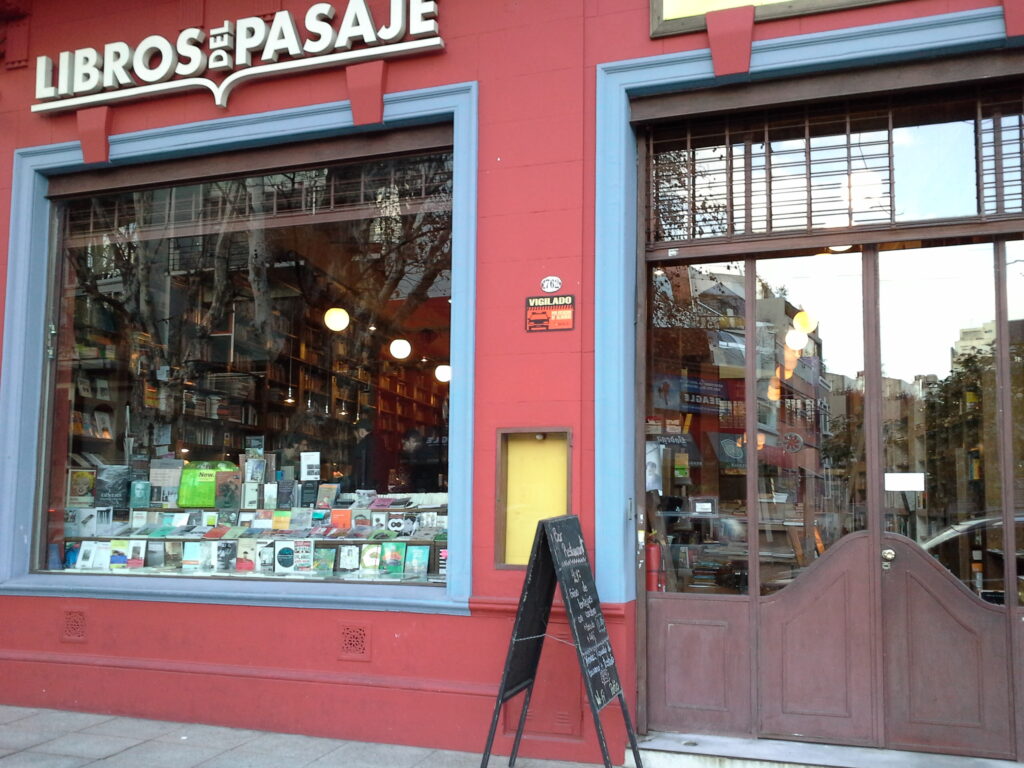 Set in the middle of bohemian Palermo Soho, just two blocks away from Plaza Serrano, Libros del Pasaje is a charming bookshop with a very knowledgeable staff and a good children's books section.
Libros del Pasaje is housed in a casa chorizo, a kind of house that was built in the late 19th and early 20th century, mainly in Buenos Aires and Rosario. In a casa chorizo, all rooms are centered around an inner patio, with no internal hallway.
The inner walls were not preserved, but you can still get a grasp of the typical architecture. In what used to be the house's patio, you will now find the cafe, set in the middle of the bookshelves.
Where?
Libros del Pasaje – Thames 1762 – Palermo Soho – See on Google Maps
---
Fedro Libros – A Beloved Bookshop in San Telmo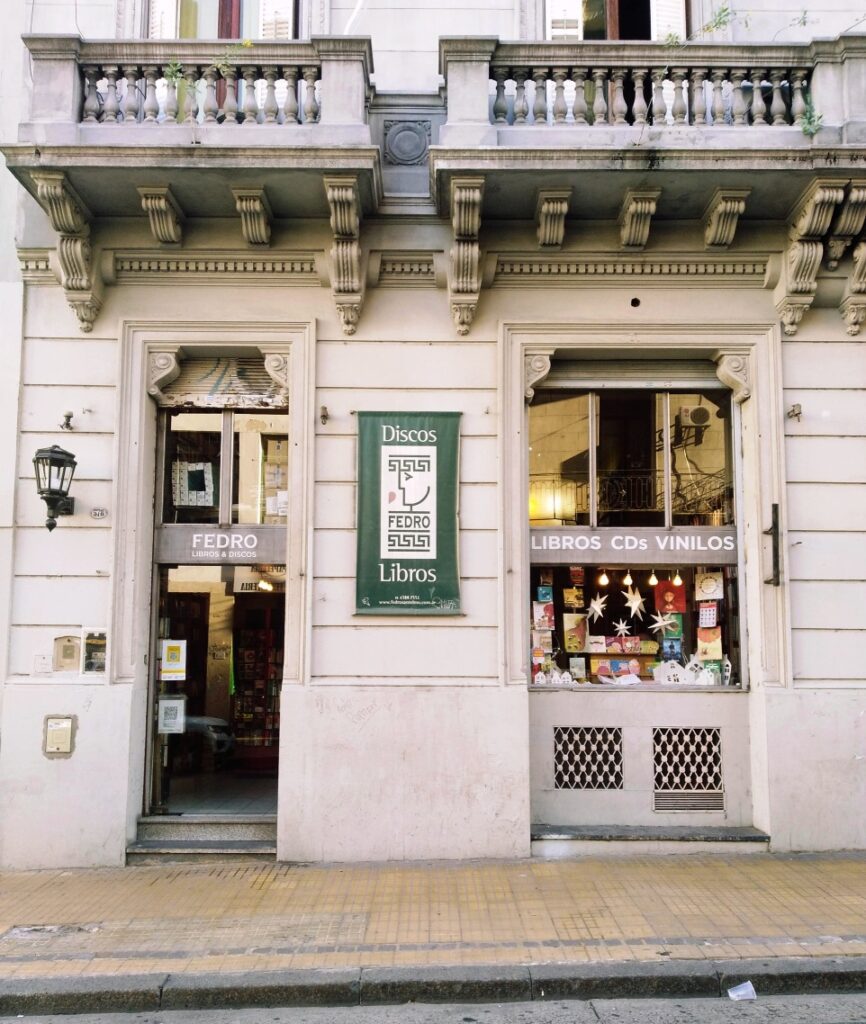 Neighbors consider Fedro Libros as part of San Telmo's cultural life. We recommend a visit if you are serious about books and love a friendly chat with a bookseller. It is located just two blocks from Plaza Dorrego, San Telmo touristic epicenter.
The bookshop offers a wide selection of novels, poetry, children's books, and some books in English. Fedro regularly hosts temporary art exhibitions and book readings.
Where?
Fedro Libros – Carlos Calvo 578 – San Telmo – See on Google Maps
---
Utopía – A Socialist Activist Bookstore in a Noteworthy Building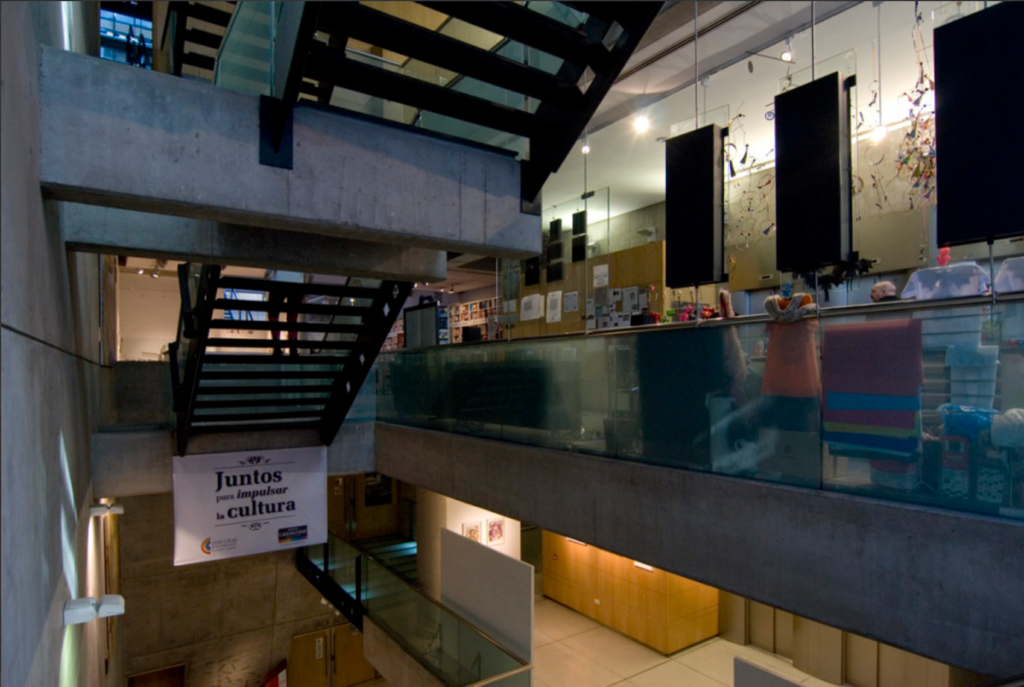 Our fifth recommendation on the list is more of an architectural one. A visit to Utopía is a good excuse to enter the Centro Cultural de la Cooperación (Cooperative Cultural Center) on Corrientes Ave., in downtown Buenos Aires.
The cultural center's modern architecture contrasts with the surrounding buildings and theaters on Corrientes Ave. The façade is glass and raw concrete, and the four-story atrium is impressive.
Centro Cultural de la Cooperación evolves around the ideas of the Cooperative Movement. The bookshop itself almost only offers books about social sciences and politics.
Where?
Utopía Bookshop at Centro Cultural de la Cooperación – Corrientes Ave. 1543 – Balvanera (Downtown) – See on Google Maps
KEEP READING OUR BUENOS AIRES GUIDE